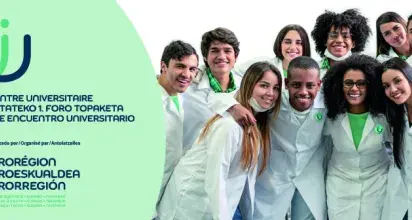 1er Forum des universités de l'Eurorégion
Le 2 mars prochain aura lieu à Donostia Saint-Sébastien, le Premier Forum des universités de l'Eurorégion Nouvelle-Aquitaine Euskadi Navarre. 
Après la présentation officielle de sa nouvelle stratégie universitaire, un atelier s'adressant aux chercheuses et chercheurs sera organisé. 
Il sera composé d'une présentation des outils de soutien de l'Eurorégion aux projets de formation et de recherche et d'un temps de réseautage.
Nous vous invitons á vous inscrire pour explorer de nouvelles pistes de collaborations transfrontalières!

Information et programme ici
Inscription ici
Euroeskualdeko unibertsitateen 1. forora


Datorren martxoaren 2an, Donostian, Berria-Akitania Euskadi Nafarroa Euroeskualdeko unibertsitateen 1. foroa egingo da.
Unibertsitateko estrategia berria ofizialki aurkeztu ondoren, ikerketa-komunitateari zuzendutako mintegi bat antolatuko da.
Foroak informazio-saio bat izango du Euroeskualdeak prestakuntza- eta ikerketa-proiektuei laguntzeko dituen tresnei buruz, eta networking-erako tarte bat ere egongo da.
Izena ematera eta parte hartzera animatzen zaituztegu mugaz gaindiko lankidetza berriak aztertzeko!

Informazioa eta programa hemen.
Izena eman hemen.
1er Foro de universidades de la Eurorregión
El próximo 2 de marzo se celebrará,  en Donostia-San Sebastian, el Primer Foro de universidades de la Eurorregión Nueva-Aquitania Euskadi Navarra.
Tras la presentación oficial de su nueva estrategia universitaria, se organizará un taller dirigido a la comunidad investigadora.
El foro contará con una sesión informativa sobre las herramientas de apoyo de la Eurorregión a los proyectos de formación e investigación y habrá asimismo un tiempo para networking.
¡Os animamos a inscribiros y a participar para explorar nuevas colaboraciones transfronterizas!

Información y programa, aquí.
Inscripción aquí.
Subscribe to Newskampus
And get our latest news in your inbox.